Created To Be Great.
5 Minute Read
"..service is the only way to truly achieve greatness."
We are in a Christian culture that is afraid to say that we want to be great, and I get it. We hear several messages and lessons each year revisiting the idea of pride. However, I think somehow in our effort to pursue humility, we have confused the definition of great with arrogance; and I think we have lost something powerful in the process. We have sacrificed the wrong things in an effort to keep pride out of our churches and organizations. My goal in this blog is to challenge this idea of greatness and give us a moment to consider how Jesus led with greatness and taught us to do the same.
What does it mean to be great?
The greatness of God is noted throughout the Bible – He created all that we see. He split the sea in half to save His people. He stood the sun still. He sent a worldwide flood and saved only a few. He was and is worthy to be praised. His greatness is powerful and undeniable. And, for the most part as believers, we are not uncomfortable with God's greatness. I have noticed though, that we don't always talk about Jesus in the same way.
However, even against human standards, his greatness is prevalent in His story. Jesus gathered crowds, thousands of people, wherever He went. People would walk for miles and stay for days, just to hear Him preach. There once was a small group of men who were willing to cut a hole through a roof, for Jesus' healing touch. Leaders wanted Him for dinner, shady tax collectors became filled with curiosity, and the discarded held on to a sliver of hope that He had the power to change everything. This man, a carpenter boy, drew so much attention that the top leaders in the world plotted to have Him killed in order to stop the movement He had begun. There is really no way to deny His greatness.
We also have to look at the ones He led. Peter's story alone has to make us stop and wonder. Before Jesus, Peter was a fisherman. After he began to travel with Jesus, he was frequently the one who wasn't going to get it right. Peter was the one who swore to stand by Jesus through anything and then denied he even knew Him when everything started to unravel. Yet, as Jesus said it would be, Peter is the rock the church is built upon. He spoke and wrote words that we still quote today. He changed the course of history.
Peter was great. And, though I don't have time to go into it – John the Baptist was great. Paul was great, John the apostle was great. Mary was great. Ruth was great. Esther was great. King David and his son Solomon, were great. Greatness is all of over the Bible. And, from that greatness, people were drawn to God. The gospel spread – even after it's leader and king were killed. The greatness of our God was always intended to be shown in and through His people, but I am afraid we have lost our salt. You and I no longer try to find out what it means to be great in the kingdom of heaven. We have taken Jesus' commands to be great by being a servant and substituted our thinking with – it is great to be safe. We have started to believe that Jesus' best for us was for us not to feel pain. The problem with that is that it doesn't line up with what Jesus said or how Jesus lived.
"The greatness of our God was always intended to be shown in and through His people"
As we begin to define greatness by Jesus' examples and command, we will see that Jesus always attached greatness to seeking him and serving others. We know that service is the only way to truly achieve greatness.
Greatness is not a call to be the most powerful, the loudest, the richest, or the most well-known. Chasing those things exposes that we really don't trust that living by Jesus' definition of greatness will be enough; or we are afraid it will cost us too much – that in the end, we won't get what we want. The catch is, what we truly want can only be found in Him. Jesus is the one that gives us purpose and His will is the best way to live. He wants you to pursue greatness. He knows that the world will know Him when His people try for greatness. Greatness comes at a cost though, and that cost is – ourselves. It is a sacrifice we are called to make – to die to ourselves. It is not easy to surrender the idea that doing more and being better is ultimately what will give you what you want. However, on the other side of the command to die to yourself is a promise that your sacrifice will end in life. And, not just any life, but the life you were born to live. Jesus came to give us life. He wants us to know freedom. He wants us to believe and live out, the incredible plans He has for our lives. Surrendered, serving others, rooting for each other – in this place – the world will know us and remember us – and most importantly be drawn to learn about the One we serve.
Please. Find your greatness. This is the call of your life and mine. Be defined by a life lived larger than anything you could do or be on your own. You were born to be a person of consequence. You matter. But not because of anything you can accomplish on your own – no – you matter because He has called you child. He has placed you next to Him on the throne. He says you matter. And, please hear me – He has more in store for your life than you could think or imagine.
Won't you surrender to Him?
He is faithful. He is good. He is who He says that He is.
Leave a legacy of service for all that you lead. Fight the temptation to only be good at your job. Fight the pull to use your employees to lift yourself up. Deny the tug to hide behind your family to somehow prove your own significance. Know the definition of greatness and believe the One who called you to it. Surrender. A life of greatness is waiting for you, and the world is waiting for you to live it.

President / Author
Randy has a passion to focus his energy on helping men rediscover their "why" or mission. When that passion becomes the central focus of a man's life it will bring out passion for God, unveil the calling on a person's life, and show people how to lead others away from their lack of direction and destructive "busyness." There are two ways to influence human behavior: you can manipulate it or you can inspire it. Randy helps men develop and execute a personal mission that will inspire!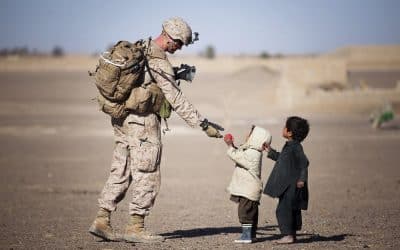 The Real life of a Servant Leader 5 Minute ReadWhy are we sometimes unwilling to face our weaknesses or consider how others think we need to improve when we know the feedback will help us become the best version of ourselves?   Would you believe me if I told you the...
read more